Thread Rating:
Boorito's HPI Sprint 2
Thank you! I hope it runs as good as it looks lol xD!
Hobby people had the servo I was looking for, so the car is done and has had one battery run through it. Though half of that battery was setting up the remote the diff stayed locked though the little bit of sliding I did. The car handles a thousand times better, but still needs some tuning to get it proper to slide.

I need to re adjust ESC tune, it feels like it needs more power again, I have it set to medium now.

My biggest thing is I am not sure if my new remote bound it self right... The instructions ask for a solid blue led on the receiver, but I have a solid red, though the instructions are also for an rx37e, when I have an rx37w that came with my remote... I have been searching all over but have not really found an answer for that issue, but the car runs great and doesn't seem to have issues.

Also I did not know the drift spark tires I bought have metal in them. I understand the name of them now, very entertaining.
I have run a few batteries through it now and am beginning to get the feel of the car again. I may want to still play around with a few things, but over all I think the car has improved greatly over stock.

It now handles much more like a real car, very fitting to have the AE86 body on the car, because it kind of feels like driving one in real life, I mean you have to really push it to get that heavy butt in a decent spot, like the under powered drifting in a real Corolla. I am thinking of stiffer front springs and maybe changing the location of the top mounting point on the strut.

I am running Tamiya super drift in the rear right now also, and they seem very grippy over the MST, HPI, or Sakura tires I also have. I will probably run the MST next to see how that feels, but I am iffy on super gluing them to the wheel lol

I am running Speedline Original medium tires in the front, and they do everything I was hoping they did. I tried Top Cad k cuts? or something like that for one run and thy were terrible, and also tried the Sakura Sparkle tires up front for a run which was not to bad, but I had not tuned the car then so I may have a different opinion on that now. I also would kind of like to save the sparkle tires for the rears after seeing what they do lol.

Over all I almost stick to my original opinion. Lock your rear diff and your good to go! Everything else should be put towards a chassis with better gearing options! Or maybe there will be a very easy pulley option for this, I am to lazy to mod it now lol. Some time in the next few months I may grind some metal away for more steering angle if I think I need it after more light tuning.

If I have enough parts I will be building the left overs into the midship conversion to see how that goes, but I may make it RWD just to see if I can make that work cheaply.

As I practice with this as possibly build up the junk car build, I will be saving up for either the Sakura D3 clone on Ebay, or an MST XXX Pro, because if I am spending anymore money than the Pro I will get the MST FXX.
I have been playing with the settings on my new remote, and found I can bump throttle response, and add ABS from the remote, which made a big difference, and now the car feels amazing.

I am starting to think changing my front springs might make it hard to control again, so I am going to stick with its current set up a while.

In a few weeks I may have a video for yt to show progression, but I would rather like to have my donuts better before I try and show any improvement lol

After everything though I am happy with how the chassis feels over stock, and I am happy with the satisfactions of having a nice looking toy car for a reasonable price.

I say reasonable price because the car was a gift though :P.

If you are reading this before buying a car though, GET SOMETHING WITH MORE OPTIONS!!! Buy a stock Sakura kit for 100 and build that! You will have a better drift car for more likely a better price after everything.

I may settle for the stock Sakura if I get to impatient with this. If you are just getting started you can probably build a stock Sakura kit with all the electronics I have for under 350 with the good steering rack. Even cheaper with the stuff from China. Plus if you build your car you probably won't lose screws on the first run unless you built it bad :]!
I have found the topic on the forum about the Sakura pulleys working for this car, so I will probably be ordering those this week to try CS.

I am getting used to the weight of the car and have fiddled enough with the electronics to where I think they are ok. I also added the rear belt tensioner which I think helped quite a bit for a problem I didn't think was there, braking is a thousand times better and the rear feels more responsive.

I also took this short video of the younger of my two dogs chasing the car around a bit. He really seems to like playing with it lol.



The angle is terrible, next time will be better.
I took a picture of the rear pulley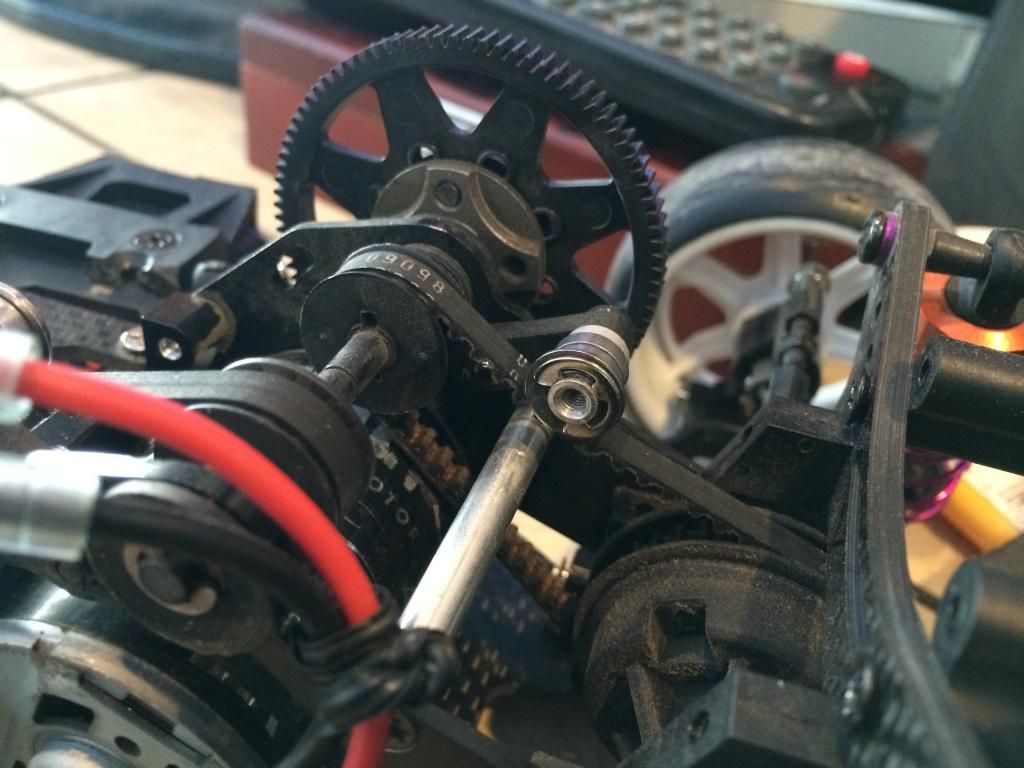 I made a quick video of the chassis, I was in my garage bored and figured it was a good way of showing it.
How do you like the Exotek chassis? Got one of these on the way.


Sent from my iPhone using Tapatalk
Using Tapatalk
I love it over the stock, and most other chassis that still allow the belt to rub on the upper deck which really bugs me. I do wish though that like the other upper decks it has a second hole for the left steering arm. I wanted to use two right steering post things so I could have them both supported by the upper deck and get rid of the slop on the left, but with this upper deck I won't be trying that. I may try the metal steering arms/ wipers what ever they are from GPM, but it looks more of a bearing issue to fix the left slop so I can't see spending the 10 bucks on that part. I have been looking at many different brands to fix the slop and keep the Exotek upper deck.
Cool, thanks for the info. I have the GPM steering bell cranks coming too and have noticed all the slop in the left (although I lost about half the slop after installing RPM ball cups). Couldn't you just drill another hole into the Carbon upper deck using the stock as a guide? I'll be posting pics up if my progress with this kit soon.


Sent from my iPhone using Tapatalk
Using Tapatalk
Users browsing this thread: 1 Guest(s)