Thanks.
So I took this on my first drift session.....and discovered more issues. But that's what testing is all about. Turns out the shocks were not functioning properly. The O rings had too much friction causing the shocks to pretty much not work so I spun out so many times. But there were times where I would do complete laps and it looked great. I still had some front alignment issues and couldn't get the wheels to be parallel for most of the steering range. I know there's an alignment issue when I have to full-lock drift for most of the time. The surface was smooth as hell asphalt, very slick. I ran a 11-turn brushed setup just to see how it would behave. For the most part, it was fine but it was struggling a bit due to the motor resistance when I let off the throttle.
So my fixes for these issues are to slap on some Yokomo shocks I had lying round for the rears. They're have very little resistance and move a lot easier. I also went ahead and spent a pretty penny for some Usukani steering blocks. These solved the problem with the right tire making contact with the steering link since it changes the geometry enough for it to clear. So no more need for a steering stop and I can increase the EPA more. It drifts with more control right away, massive improvement. These are the oneway units, which is all that was available. I removed the bearing pins to eliminate the oneway feature.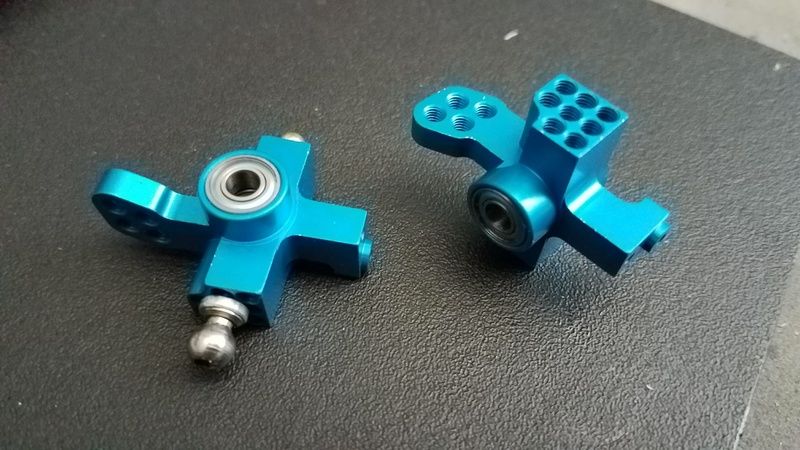 Yay clearance
I also put the brushless system back on and I think it will stay on.
For most of the session I ran the chassis at 239mm with this body. Ol' skool RX-7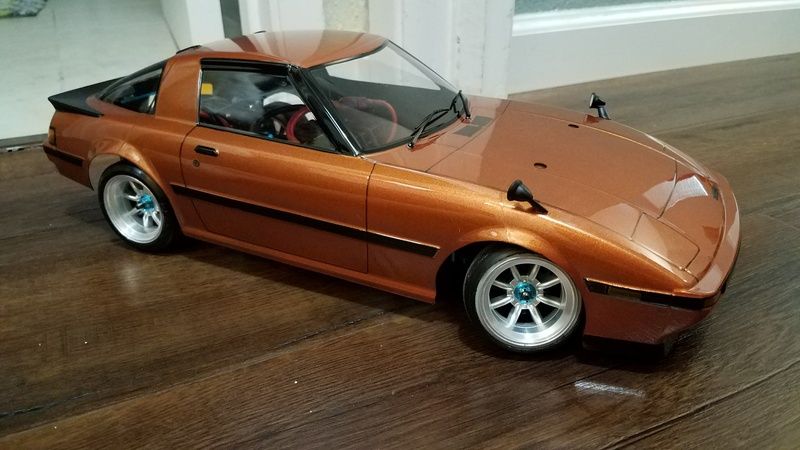 Body rides a bit high due to the use of thick magnets. I got a set of thinner magnets on the way so it'll sit better.
I got a ABC Hobby AW11 body on the way for my 210mm option.
I've been looking up to see what other kinds of M-chassis drift tires there are. So far there's HPI T drift, which is what I'm using, Tamiya but not sure of it's grip level, and Xpress, which has 3 different levels and their hardest compound is called "medium soft" so I'm not sure about that. And if I go another drift tire other than HPI, I'll have to get some wheels since HPI's have a slightly larger diameter. The T-drifts give plenty of traction (I'm used to running Raikous) especially as a rear-motor so I'll see what I can do to make them work (suspension, gearing, etc.).

3Racing Sakura D4 RWD