FBD (Full Belt Drive) write up
First off, I want to say a big thanks to STUFFCC, for helping me out this, he literally saved me a lot of time hunting things down and doing things right. Here is his original write up:
http://translate.google.com/translate?hl...CFkQ7gEwAQ
Lets start off with the FBD calculator, which you can download here:
https://docs.google.com/spreadsheet/ccc?...1lHaW9CWUE
After using the FBD calculator, you will determine the size of the motor pulley (pinion), spur pulley, and drive belt that you will need.
For my case, I originally had a 124t / 39t, 64p combo, which is a 3.179 ratio.
My new belt combo will consist of a 38t / 12t combo, which is a 3.166 ratio.
And since my distance between axes is 31mm - 34mm, my recommended belt sizes are 47mm - 49mm
Motor Pulley:
Motor pulleys can be bought here:
http://www.rc-race-and-drift-japan.com/i...0&sort=20a
http://os.3racing.hk/search.php?page=1&p...5&x=52&y=0
Because the 3racing pulleys are cheaper than square, I decided to with them. Hereâ€s what they look like: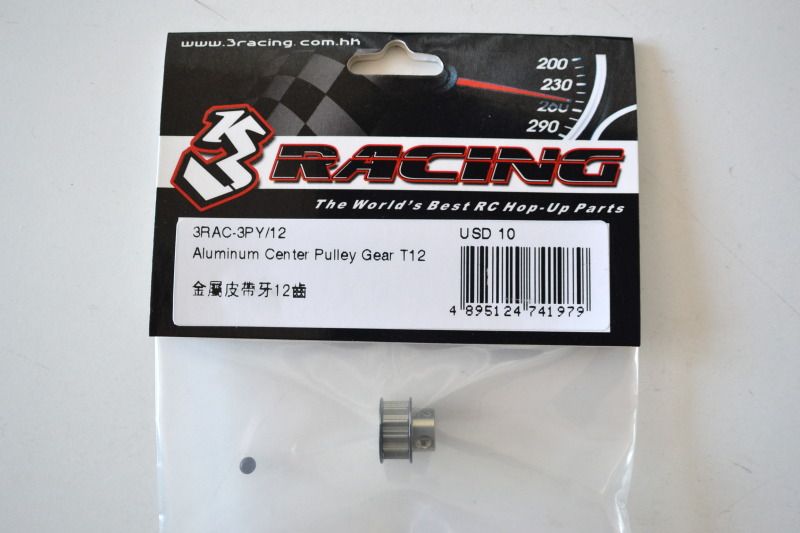 Bushings:
Now those pulleys are designed for 4mm transfer shafts, not the 3.17mm motor shaft. In this case we need a sleeve, or a type of bushing to fill the gap, and center the pulley onto the motor shaft. Yeah Racing (#BH-020) Delrin Bushings were used for this job, which can be bought here.
http://www.rcmart.com/yeah-racing-bh020-...95_746_407
Put the motor pulley and delrin bushings together:
Notice that the bushings have a taper on one end; the bushings actually fit really snug, and have a tight press. No need for super glue to keep them from flying out.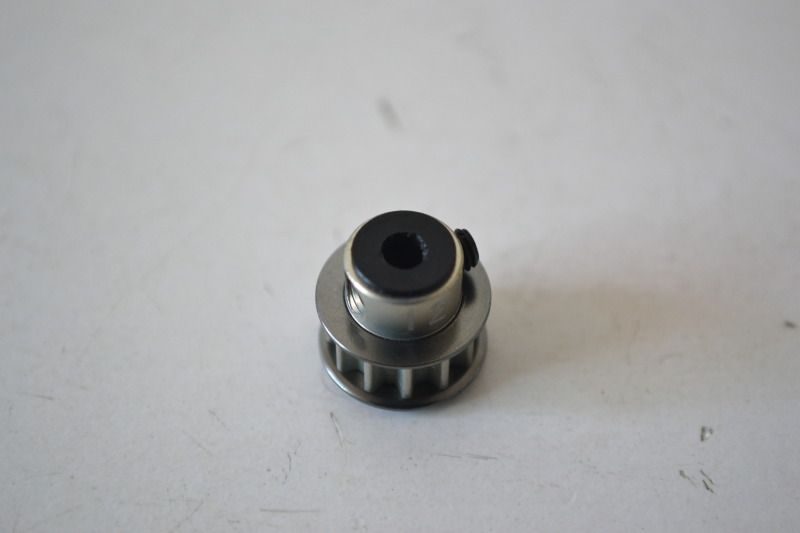 Mount it on your motor, and don't forget to tighten the grub screw:
Drive Belt:
According to STUFFCC, standard belts don't have the tensile strength to handle direct motor load, so fingertech belts were recommended:
http://www.robotmarketplace.com/products...rtech.html
---
Spur Pulley:
The spur pulley can actually be any pulley from a ball differential, spool, or one-way pulley. Whatâ€s important is the number of teeth, and the center bore. Center bore is important because too big, and youâ€ll have a gap from your spur hub. This may cause an off-center mount.
---
On my first attempt, this is what happened, my fix was this:
I took a regular spur gear, and shaved down the outer diameter until it met the stepped surface of my new pulley
With that done, I now have a perfect center bore, and perfect mounting holes, though I still have to drill mounting holes on the pulley. To add on this spaced out the spur pulley perfectly.
Mocked up: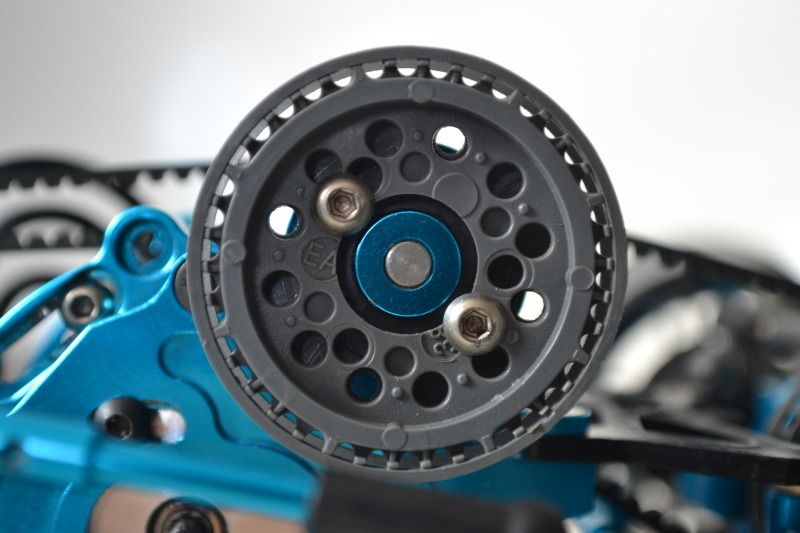 A week later I noticed something with my SJ R31 ball diff pulleys, the center bores with smaller, and had more solid surface around the center for a better mounting hole position, so I got one. The mounting holes still had to be drilled, and the center bore was too small for the spur hub, so I bored it out enough just to have a nice glove fit on the hub, & perfect!
Motor Rotation:
The last thing that's needed for this FBD is that you need your motor to turn clockwise.
For sensorless systems, you can either swap any 2 of the 3 phase wires, or program your esc to turn the motor clockwise.
For sensored systems, you can take off the hall sensor harness, and treat it like a sensorless system, but Iâ€ve tried this, and it glitches as if I was running an AM radio... what I recommend doing is programming the ESC to turn it clockwise. Some program cards can't do this, but a pro programming box, hooked via USB to PC can.
STUFFCC said he is not sure about how many turns this belt drive can handle, maybe as low as 10.5t...
I'm running a 8.5t setup, so I will continue to check the drive belt after every run, & I'll keep you guys updated.
Enjoy your new FBD chassis!