09-09-2014, 07:42 AM (This post was last modified: 09-09-2014, 07:43 AM by pfregeolle.)
I'm a bit late to be starting this, but figured that I should at least start somewhere...
A little over a year ago, I decided that it was time to finally break-down and rebuild my original Yokomo Drift Package. I bought the original kit back in probably 2005-2006 through Tower Hobbies when they actually carried Yokomo stuff. Put it together, and placed some pretty general and low-end electronics on board, and enjoyed it for several years. Then, like most hobbies, it eventually ended up sitting on the floor or a shelf somewhere and was left untouched for a long time.
I started to remember how fun the car was, and decided to go back to my parents' house to pick it up and have some fun. The last I could remember, one of the universals broke and I just never fixed it. I used to do a lot of shopping on Genki Dori Dori, and when I went back to buy what I needed, I realized they were no longer around. It was time to find a new spot...DunDADA: Banzai Hobby! I know a lot of you have mixed feelings about them, but I really have never had a bad experience, and they always have what I'm looking for in stock pretty much and all in one place. I don't want to have to buy this arm from that place, and this mount from this place - I just want to get it all from the same shop. So I found their website, and ended up coming across WELD Overdose, and my heart started pumping... I had to have all these anodized blue parts.
So I placed my first order with them...which really should have just been for some universal shafts, and maybe some other small things. But then I saw they had blue this, and shiny that, and WORK Wheels CR Kiwamis...And well:
So I spent the next several days slowly putting the tub back together with all these great new parts, and really enjoying it while I did it. I thought I was close to being done at the time...nope.
Then I realized the universal shafts I bought were just a little too long for my Drift Package and didn't quite fit right. A few weeks later, it was back to Banzai for some different sized shafts, and decided I would go ahead and pick up some other parts while I'm at it too to save on shipping costs. This time it was the gear cases, and some more mounts and braces that were out of stock during my first order. And the Speedwal Pal HD Aero FC3S body...
So I kept on rolling with it, and would order some things here and there - like new wheels:
Then it came to be that after I put the new KO Propo electronic servo in my chassis that I bought, my ESC fried for some reason. Not blaming it on the servo or saying that necessarily had anything to do with it, but it just so happened to be at the same time. So I sent my ESC back to LRP for a replacement, and in the meantime also picked up the KO Propo EX-5UR Transmitter and KR-210S Receiver:
Old Futaba receiver vs. New KO Propo goodness!
---
MAN WHAT A DIFFERENCE! Throughout the winter, I was taking the chassis over to my buddy Nick's garage on the weekends and we would slide on the cement floor. He was using an HPI Sprint 2 at the time, but after seeing where I was going with my Yokomo, he ended up picking up an MST FXX-D VIP. I saw the silver carbon chassis on it once he was showing me his build, and then I knew it was game on. A few weeks later, I was turned on to Super Rajikon (thanks GenkiRF!) and picked up one of these:
With the way it looked things seemed to be going...I also picked up the new Yokomo Carpet tires: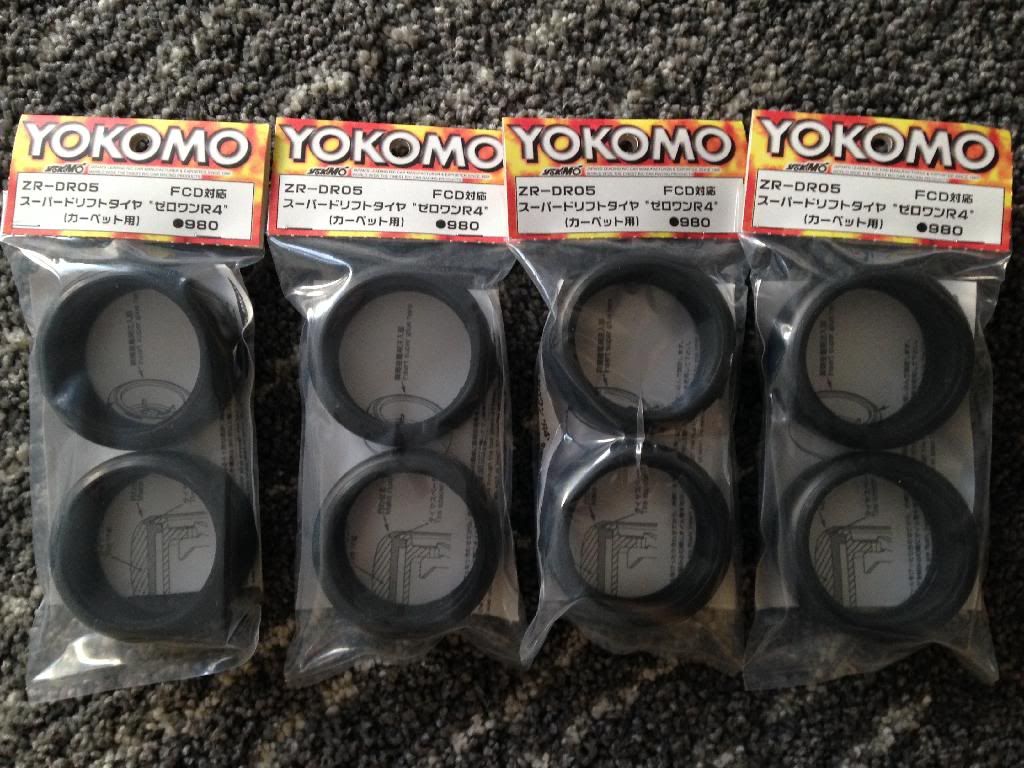 So I prepped the new chassis - I really wanted to stick with the blue theme, and going off of directions I've seen on here and other sites, I wanted to add some blue flair to the edges of the carbon chassis. I tried the blue sharpie method, and it ended up looking purple/green, so I just wiped it all back off and started fresh. My girlfriend then gave me a GREAT idead...I have a Cusco 6-Point cage in my real car, that came with a little can of touch-up paint for when the cage gets scratched. Bingo, shook up that can and started going to town on the edges of the chassis. I took my time, and made sure it laid down nice and even and didn't go over the edges to the surface. Came out looking PERFECT. I still need to seal the paint with glue, and add my 3M clear bra to the underside. But we're almost there!
And that's where the chassis sits as of now. Still a few things left to tinker with, but I'm really honing in on having this chassis complete, and I can't wait until I get to take it out west to the new Fatlace RC track. I have a few more photos that I edited last night that I'll be posting up here and the blog later, pre-assembly of the new carbon chassis. Keep posted on my blog, since I tend to post the photos up there more:
http://teambushido.blogspot.com/