I've been following this forums for a while now and was trying to get in to the hobby. Or should I say get back in to RC.
More than 10 years ago I was ripping around my neighborhood with Tamiya QD and looking for a step up but didn't got the chance. The only thing I did was having a bunch of micro cars and buid an RC boat from scratch.
Later I got in to PC gaming and start drifting in racing simulations. It's a lot of fun and that's how I got addicted to drifting and sliding around... by which  I mean I never travel in straight line.
Earlier this year I found that now the hobby got cheaper so I got myself a micro car for drifting and I'm immediately hooked!
As some of you might remember I was looking for RWD but unfortunately that didn't happen.
Long story short, an unexpected turn of event happened and I got a used Sakura D3 equipped with FOW and hi-speed servo.
My hope to succeed is to proof that this hobby can be done for cheap. 
I'm currently living in Greece and pretty much everything here is absolutely expensive. Every suggestion and advice are welcome.
Current spending so far:
Radiolink RC3S Transmitter: 45 EUR
RacerStar 3900KV 540 Brushless Motor Combo + programming card: 44 EUR
JX Servo 6208MG 0.09/0.07S : 11.5 EUR - Looks like it's not needed since I got the car with same servo spec.
5200mAh 2S Lipo Battery: 19 EUR
iMAX B6 Charger: 29 EUR
Used Sakura D3: 100 EUR
Total ---------------------------- 248.5 EUR
I just read that stock CS ratio is too high but I haven't got a chance to run it yet. Let's see what will I discover.
By the way I got the car from Athens but I live way up north and travelling by bus. So this is how I transported it, zip-tie it down in the box and put it in my backpack.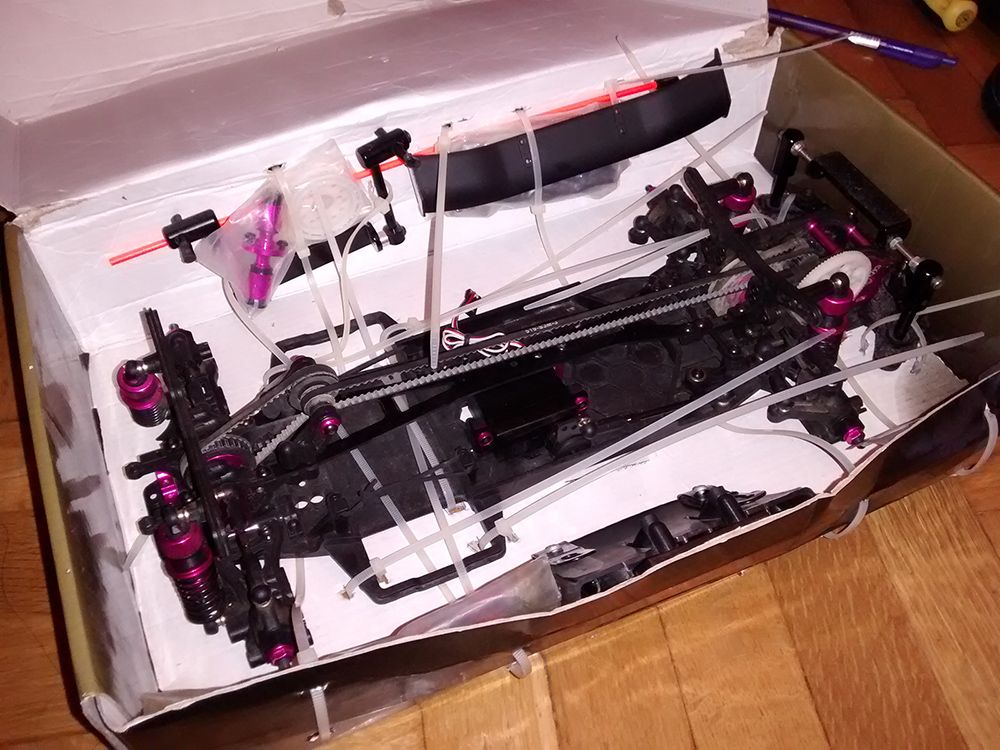 It survived jumping and running and packed bus! Should I be surprised?
Finally, thank you for having me.