Hey everyone, I'm Chris from the northwest suburbs of Chicago. I played around with RC cars a little in high school and college, mainly just bashing around the desert (originally from AZ) with a cheap Traxxas Rustler. I've been wanting to get into RC drifting for awhile now, but have always decided to spend the money on 1:1 scale car hobbies instead (autox, hpde, and rallyx in the winter).
After a bit of research, probably less than I should have done haha, I order the following yesterday:
-Sakura D4 AWD
-Yeah Racing Hackmoto V2 13T
-Yeah Racing Hackgear Servo
-Yeah Racing Tritronic
-ABC Hobby R30 Skyline body
-FlySky TX FS-GT3B
-Charger and a Gens ace 5000mAh 50c 2S LiPo
I went with the CS D4 simply because of reading and watching a good number of reviews that said it'd be easier to learn and less likely to get discouraged, although I read plenty of opinions that also said to just jump into RWD. My main goal, for the time being, is simply to have some fun with a moderately expensive toy. I figured the D4 would be a good choice since it was in my price range and can be converted to RWD fairly easily.
This is gonna be my first time actually building a kit, my old Rustler was bought as an RTR, and I'm pretty excited for that. Looking forward to joining the community, and learning/sharing a lot more on here.
Here's the progress on the car so far.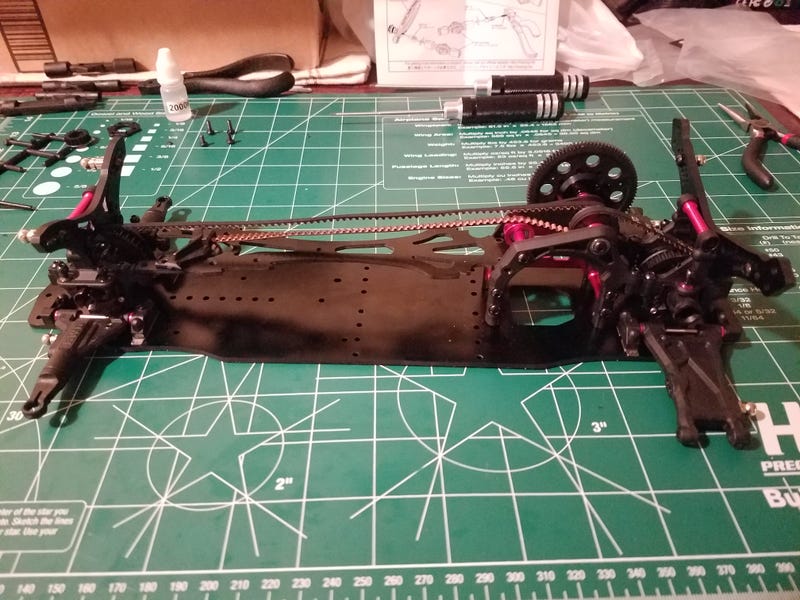 Ran into a bit of a snag last night with the upper deck and front shock mount coming into contact with each other, so I'm picking up some sand paper today to take a bit off the front of the upper deck. Hoping I can finish up the build tonight.