---
Carbon fiber look - driftaroo - 04-28-2015

Im trying to make a carbon fiber hood and eould like to know what works best. Im leaning towards the drywall tape method but would like some input

Sent from my LG-D850 using DriftMission.com


---
RE: Carbon fiber look - wareagle84 - 04-28-2015

drywall tape method, when done correctly, looks most realistic.
with a lot less effort and a slightly less realistic look from up close inspection, high quality 3D carbon fiber vinyl is your next best option IMO.


---
Carbon fiber look - GHOST_WANDER - 01-29-2016

Not drywall tape, its duck tape carpet tape, you can find if at walmart thats where i got mine from, as you can see in the pic i provided, make sure u place the tape close together before pulling the paper backing off



Sent from my iPhone using Tapatalk


---
RE: Carbon fiber look - dadwithrc - 08-21-2017

Yes the carpet tape works the best. Like the post said you will have to place the tape very close together. You could place the tape on a piece of wax paper first so you can get them lined up first, cut to size and lay then on the car. Best way to do it. Good luck. Happy drifting.


---
RE: Carbon fiber look - Woodsnail - 09-14-2017

There is also another way to get that carbon - These guys at Scale Motorsport have made different carbon decals that is looking very real.

They are mostly for 1:12, 1:20 and 1:24 scale model cars but the 1:12 is so close to 1:10 we are going with.

Image for you to see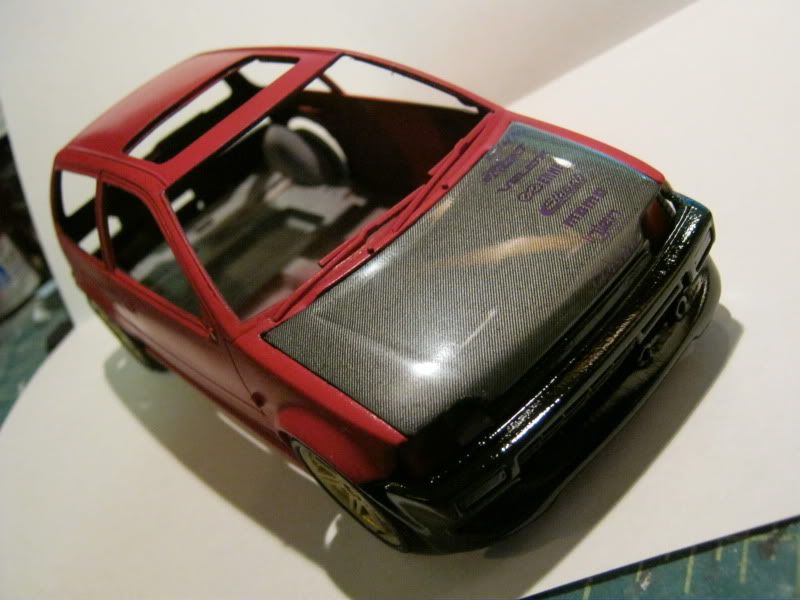 Their website: https://www.scalemotorsport.com/


---